MAY 2020 | SANTA BARBARA REAL ESTATE UPDATE
Hi! It has been some time since we last wrote and quite the time it has been. Wow! It has been unusual times, to say the least.
We took a break from our monthly newsletters for two reasons – first things were hectic and relatively uncertain and secondly, it seemed appropriate to let some topics rest. The world was in flux, and we, like you, were trying to understand what was really going on. To attempt to narrow in on real estate would have been anyone's guess and just didn't feel right.
Now feels like the time to re-engage and share what is transpiring in real estate. Here's what has happened since Mid-March.
WHAT HAS HAPPENED
As you would have guessed, the real estate market paused rather dramatically with the onset of COVID 19 and the economic "shut-down" to follow. We had been very busy the first two and a half months of 2020; we had 9 homes under contract when the shelter in place order went out mid-March. One week later 4 escrows had canceled, but we still had 5 sales under contract, some hitting more bumps than others, but all moving forward for which we were very grateful.
By the third week of March we were no longer allowed to physically show homes and there were a lot of unknowns for all of us.
Mid-March Through April
Between Mid-March & all of April, we had the opportunity to help a few more buyers and sellers enter escrow, which in our Compass office was an outlier. General activity was dramatically slower. During those 6 weeks, our market produced less than half the normal amount of new listings each week and new pending sales dropped by two-thirds. This was completely understandable given the circumstances.
To make conducting business even more challenging, many lenders froze, and buyers lost lending options as many banks decided to pause their lending programs to see how things shook out. For several weeks, it seemed like the only players in the lending market were the big banks for select borrowers.
MAY BROUGHT CHANGE
THEN came May, which brought a noticeable change. People started venturing out more. Slowly each week there has been a return toward normal, and real estate activity has increased.…
---
THE HIGH & LOW
April 2020 Highest Sale | 1930 Jelinda Dr, Montecito | Sold for $6,650,000
April 2020 Lowest Home Sale | 51 Deerhurst Dr, Goleta | Sold for $680,000
---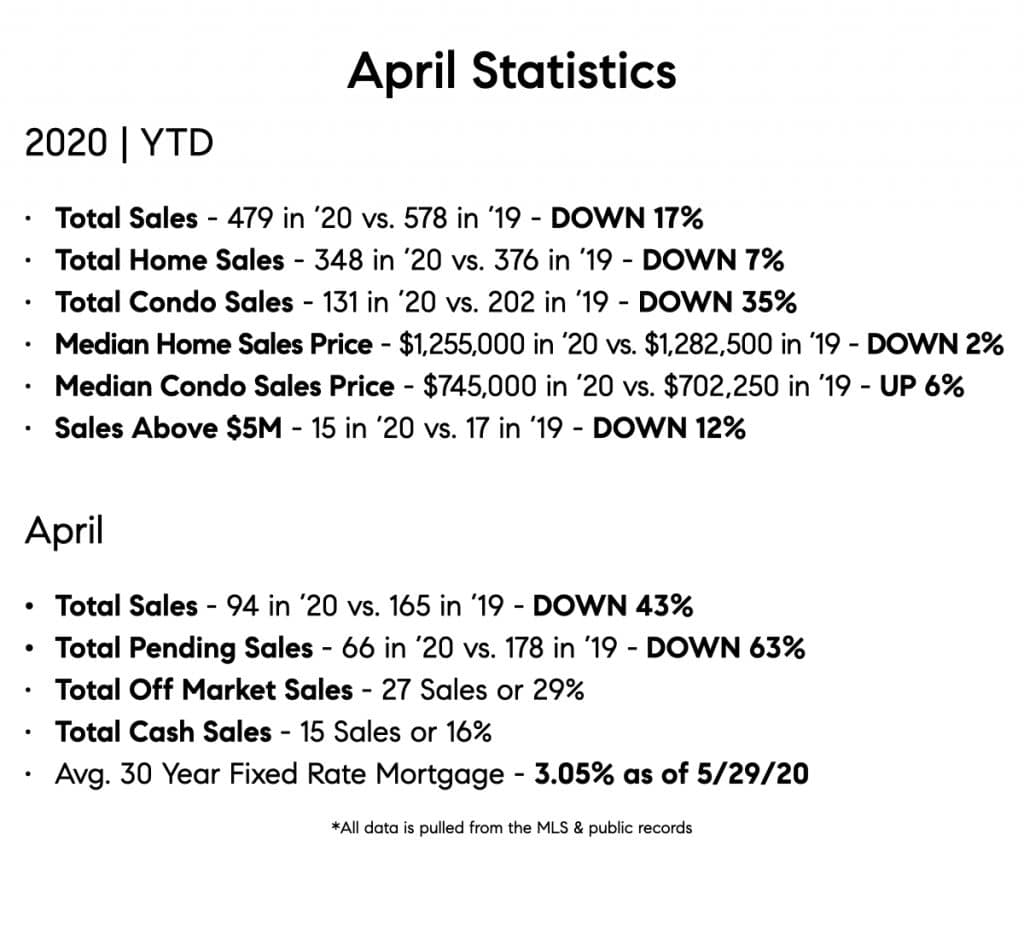 ---
More In-Depth
APRIL'S ACTIVITY
April Sales are a reflection of properties that went under contract largely in March. We expected April sales to drop; how could they not with all that happened.
April experienced a 43% drop in total sales compared to the previous year. Given all that occurred and a world economy that almost came to a complete halt, we felt pretty good about the data.
The other notable change was the big slow down in escrows, by April 30, 2020 there were only 66 homes in escrow which was a dramatic change from the 178 pending sales a year earlier.
MAY
With April escrows being so low and looking at what has sold so far this May, sales will probably be off by at least 50% compared to May 2019. Year to date May will be the most impacted month of 2020 taking the brunt of the COVID stay at home order.
SURPRISING SIGNS
We have a couple of encouraging signs. Total Pending Sales as of May 30th are 138, still down from our historic numbers (May 31, 2019, totaled 173), but more than doubling April's total. Looking at the May data more closely, it seems more buyers have emerged – of the 128 homes under contract, 86 or 67% of these opened escrow after May 4th.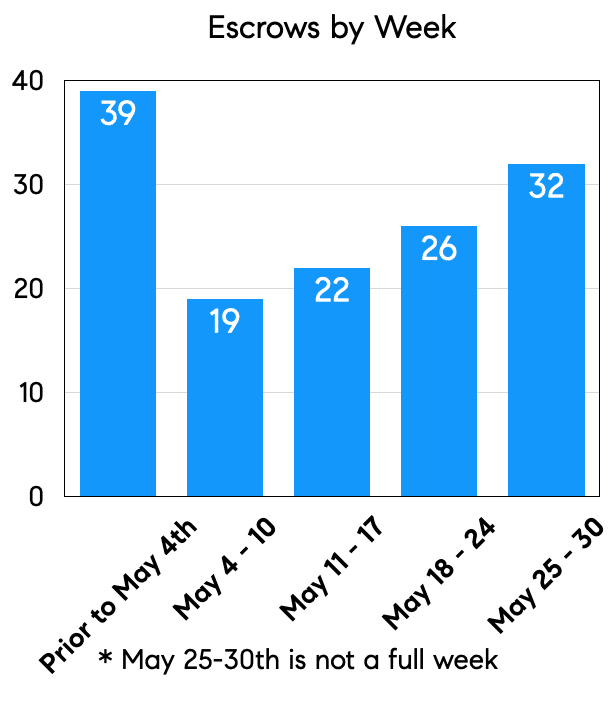 And another phenomenon we did not anticipate, multiple offers. We are aware of a handful of recent properties receiving a large number of offers. It is difficult to quantify, but it appears that we have a larger than normal influx of buyers from out of the area.
There is no doubt that the economic shutdown will impact the national economy, and we all are curious about how that will impact our local real estate market. At the same time, we are back to record low interest rates and current activity that is above expectations!
It will be interesting to see how the remainder of the year plays out!