2019 Year-In-Review | Santa Barbara Real Estate Update
At the end of every year, this is our favorite report to compile – "What happened in 2019."
At the beginning of last year, speculation abounded regarding the direction of the market. Most anticipated that sales volume would decrease and that it might turn to a balanced or even a buyers market.
That did not occur, in fact, the opposite happened. In all the speculation, we don't recall anyone forecasting that the market would gain steam, sell more homes than in the last 6 years, and that real estate prices would continue to push up.
For more details, see the statistics below.
As we begin 2020 we are more aware that the future can take a lot of unexpected turns.
One big change sure to impact this year's market is we have a lot less new development inventory. Many of the large developments have sold through, and buyers have fewer options compared to the last couple of years.
Recently, the selection of homes available to buyers has been sparse. It has been more challenging for a buyer to find the right home. This has been a common theme as we talk to agents around the water cooler.
The current belief is interest rates will probably remain relatively low for some time, which helps buyers with their monthly mortgage payments. That's great for buyers but with the lack of inventory, it feels like it's a seller's market.
We love to talk about the market and simply connect. Feel free to reach out at any time. We are always up for grabbing a cup of coffee!
---
THE HIGH & LOW
December 2019 Highest Sale | 3393 Padaro Lane, Carpinteria | Sold for $28,000,000
December 2019 Lowest Home Sale | 424 Bath St, Santa Barbara | Sold for $601,000
---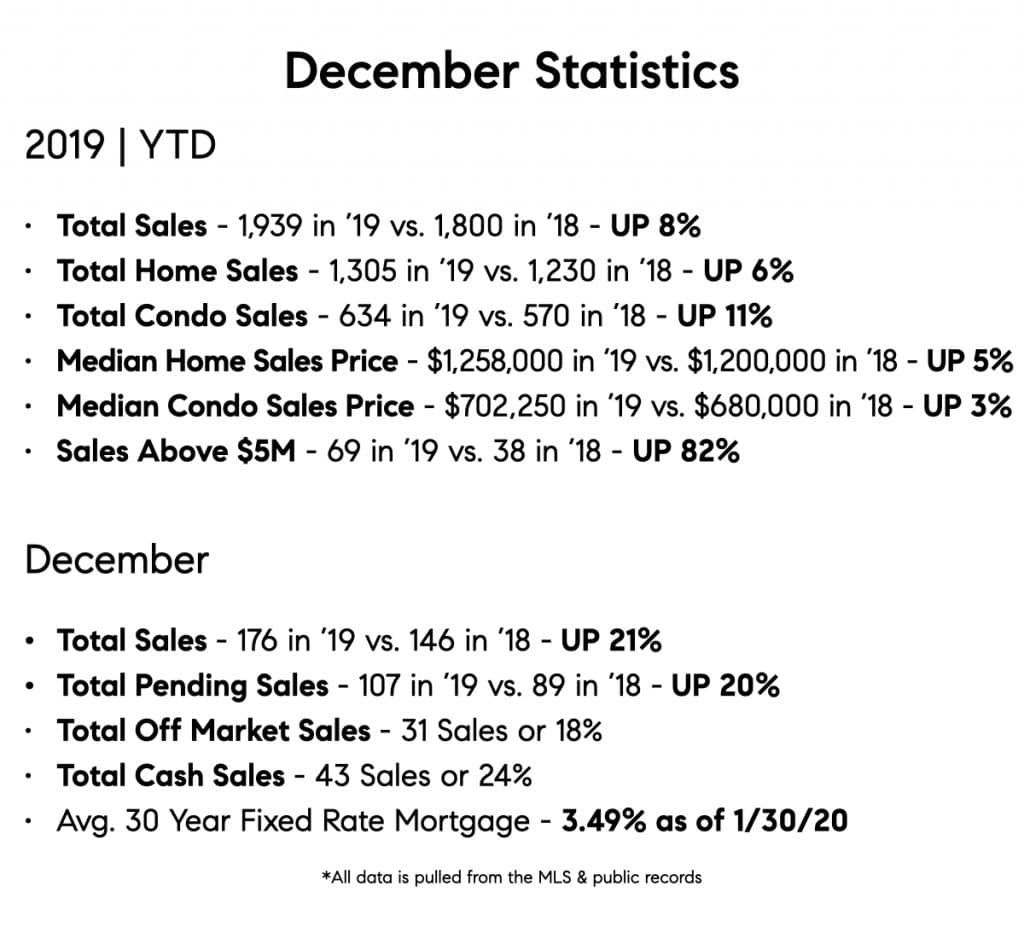 ---