February 2019 | Santa Barbara Real Estate Update
MARKET UPDATE
2019 is off and running! It is encouraging to see. January sales volume is strong and on par with 2017.
The relaxing of interest rates seems to have re-stimulated our market.  Looking back at 2018, when interest rates breached 5%, we saw the market slow.  As rates have dropped back below 4.5% sales activity has picked up.
The Fed has changed its tone on further interest rate hikes in 2019, that may bode well for the real estate market.
Additionally, the trend in high-end sales continues. January saw three sizable sales: $27M, $16.4M, & $14.8M and one additional sale over $5M.  February has already seen two sales above $5M and there are ten (10) properties currently in escrow above $5M, three of them above $10M.
Looking at the market as a whole as of February 14, there are 159 properties in escrow.  The median list price of these home and condo escrows is $1,150,000. 
To be noted, these escrow numbers do not take into account the numerous new development off-market sales that are currently pending.
To date, there is a good amount of activity at all price points. Adding into the strength of this market, more than one out of every four sales continues to be an all-cash transaction.
Will our market slow in 2019 is anyone's guess.  Every time we think we might be starting to slow a little, it seems like the market catches it's breath and off we go. Hang on!
_____________________________________________________________
THE HIGH & LOW
January 2019 Highest Sale  /  2955 E Valley Rd, Montecito/  Sold for $27,000,000
January 2019 Lowest Home Sale  / 1621 Clearview Rd, Santa Barbara  /  Sold for $605,000
_____________________________________________________________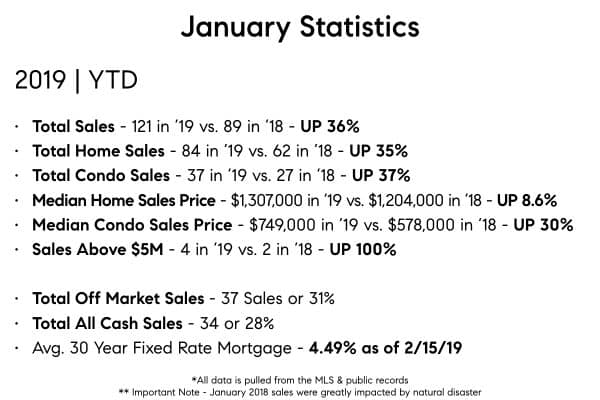 _____________________________________________________________
More In-Depth