FEBRUARY 2019 | SANTA BARBARA REAL ESTATE UPDATE
MARKET UPDATE
Our 60-second market update
With two months behind us and only a few days left in March, the housing market for 2019 is showing promise. 
Without a doubt, the biggest unexpected change has been the drop in interest rates. In November 2018 the average rate peaked at 5.17% and now nearing the end of March, the average has dropped back to 4.11% – that is more than a full 1% decrease!
We did not expect to see rates drop this low this year. Recently we've seen buyers obtaining rates as low as 3.5% on a 30 year fixed rate loan.
Why?  Slowing global economies and apprehension concerning growth in our economy.  The FED announced last week that they will not be raising interest rates this year, which is very different from their position at the end of 2018. The drop in interest rates has provided a shot in the arm to the housing market.
Our local real estate market is still moving along at a good clip. Sales are healthy – outpacing 2018 sales, as they should, given the events of early last year.
Earlier in the month pending sales (properties in escrow) were a little light but appear to have picked up. Our market currently shows 174 properties in escrow, and we continue to see lots of sales activity in the numerous new developments across the South County.
Home and condo prices are remaining constant, and in some areas are continuing to rise above 2018 levels.
_____________________________________________________________
THE HIGH & LOW
February 2019 Highest Sale  |  3055 Padaro Ln, Carpinteria  |  Sold for $18,125,000
February 2019 Lowest Home Sale  |  827 Orange Ave, Santa Barbara  |  Sold for $650,000
_____________________________________________________________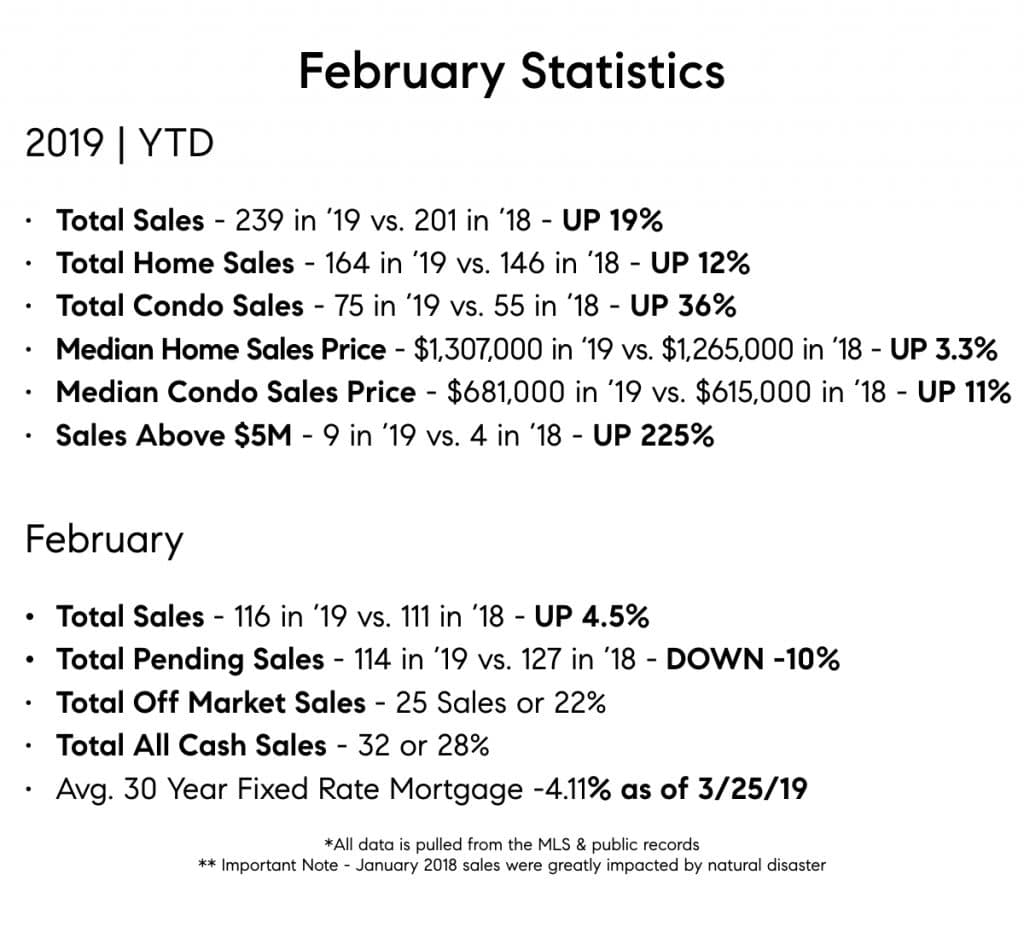 _____________________________________________________________
More In-Depth