Santa Barbara Real Estate – April 2016
The first quarter of 2016 seems to be quickly behind us. On a national scale, I read an article that has me thinking. Here is a snippet:
"As mortgage originations taper off and the refinancing wave slows, banks are betting that offering home-equity lines of credit, will appeal to many borrowers whose home values are higher now that the housing market has recovered and who may need cash for renovations, vacations or other expenses after holding onto their homes for longer than they had wanted to. Banks provided over $156 billion in home-equity lines of credit in 2015, the largest dollar amount since 2007, the year the US housing collapse began, a 24% increase from 2014 and a 138% increase from 2010. Is history repeating itself? Is this a good or bad thing?"
On a local level in, my opinion, buyers are currently being more thoughtful. Properties continue to experience a lot of interest and are selling. But it appears that on properties where 6 months ago we would have seen multiple offers, we are seeing fewer or just one. And as you can see by the statistics, sales are down by 12.6% for single family homes compared to last year.
Highest 1st Quarter Sale 2016
380 Santa Rosa Ln
3 BD / 4 BA  /  $28.850.000
Lowest Sale for March 2016
1307 Carmelita Ave
1 BD  /  1 BA  /  $520.000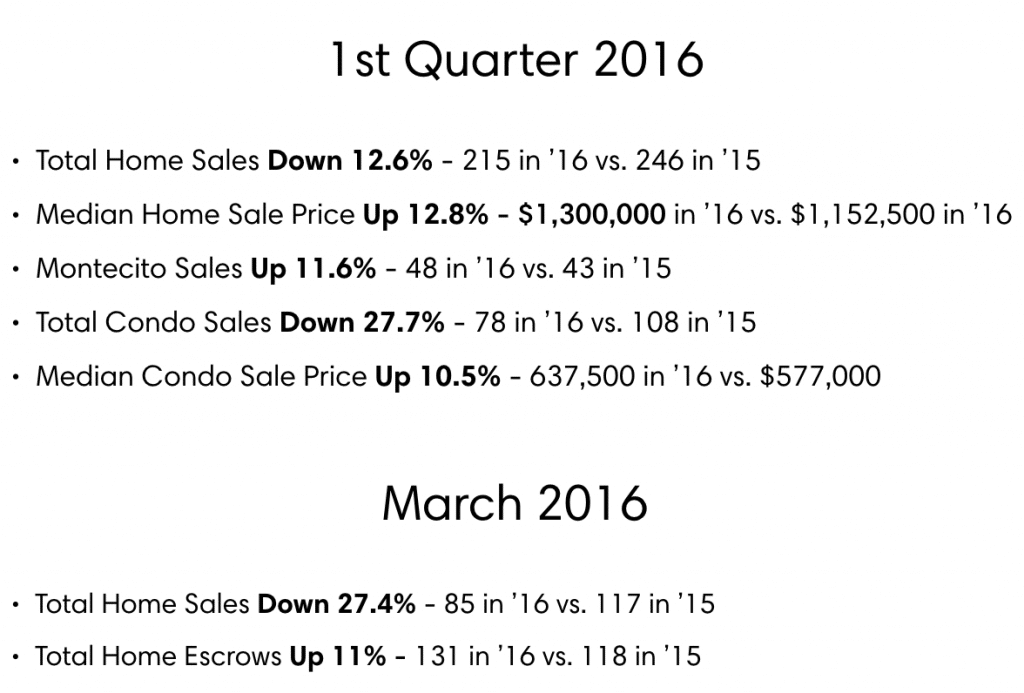 Subscribe for Market Updates