Santa Barbara Real Estate – September 2018
MARKET UPDATE
Overall, our market is active and consistent through a number of changes this year. Sales for the month of August 2018 are up compared to August 2017. Total year to date 2018 sales are down just slightly compared to last year. 
The changes we see:  Inventory is rising modestly.  Price changes are occurring more frequently. And Mortgage rates are up.
We believed mortgage interest rates couldn't remain low forever. They are increasing and appear to be "normalizing." As rates go up, Buyers can afford less. This should slow price appreciation, and Sellers will need to react to the changing market.
Mortgage Rates – Lender rates are at their highest levels in more than 7 years.  The beginning of this week the average top-tier scenario quoted was 4.875%. Late last week rates touched 5% and have since dropped back down.
Price changes – We've been closely tracking the daily housing inventory changes – in particular, New Listings & Price Changes – some days there have been more Price Changes than New Listings. This is a new phenomenon; the market has not experienced this level of price changes in a long time.
The Question – Will September be a month that reflects locally some of the changes we hear about in other markets across the country? Will we see a decrease in the sales volume? Our guess is likely. Through September 25th of this year, there were 91 Closed transactions in the MLS. Last year the first 25 days of September saw 126 sales. Will there be enough off market sales in September to push total sales to last year's level? We will know shortly.
One Last Thought – Days on market for this year's sold properties has not yet increased, though inventory is rising, and we are experiencing more daily price reductions. We believe it's because we continue to see very active Buyers in the market, and when a property is priced well, it sells quickly.
_______________________________________________________________________
THE HIGH & LOW
August 2018 Highest Sale  /  881 San Ysidro Ln, Montecito /  Sold for $16,300,000
August 2018 Lowest Home Sale  /  710 De La Vina St, Santa Barbara  /  Sold for $535,000
_______________________________________________________________________
AUGUST 2018 STATISTICS
Year to Date
Total Sales – 1219 in '18 vs. 1,229 in '17 – DOWN 1%
Median Home Sales Price – $1,200,000 in '18 vs. $1,220,000 in '17 – DOWN 1.7%
Median Condo Sales Price – $679,000 in '18 vs. $611,000 in '17 – UP 11.1%
Sales Above $5M – 29 in '18 vs. 39 in '17 – DOWN 25.6%
August
Total Sales – 203 in '18 vs. 192 in '17 – UP 5.7%
Total Escrows – 124 in '18 vs. 126 in '17 – DOWN 1.6%
Avg. 30 Year Fixed Rate Mortgage – 4.86% as of 9/24/18
*All data is pulled from the MLS & public records
_______________________________________________________________________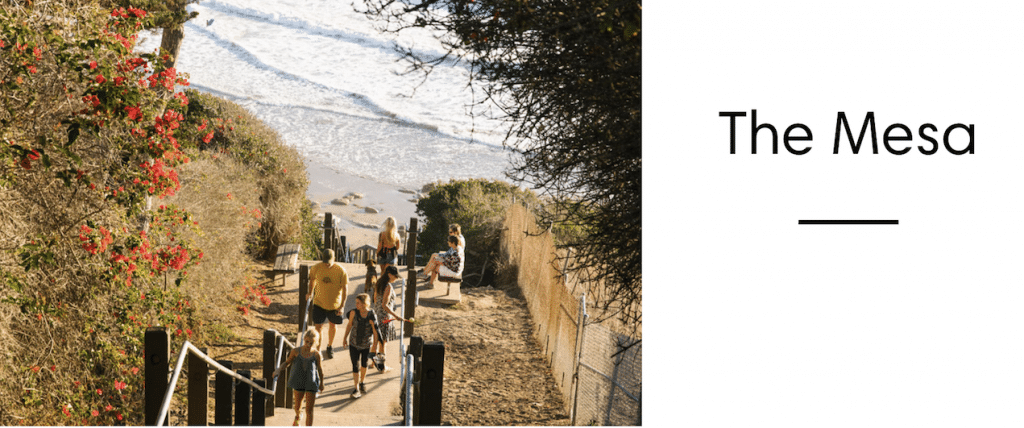 The Mesa is one of Santa Barbara's hottest markets. Buyers love the neighborhoods, proximity to the ocean, parks, and local restaurants. Most Mesa properties are modest in lot size and square footage.  An added bonus is that a good number of properties offer a peek or even views of the ocean.

In 2017 the Mesa experienced 128 Sales which was the third highest sales volume in 18 years.  The median sales price far exceeded the past markets high. 
Dramatically different in 2018 is the rise in the median price; it is up $100,000 to $1,350,000.  However, sales are not keeping the same pace.  With 75 sales through the first 8 months, provided we stay on that pace, we should see an annual sales number near 113.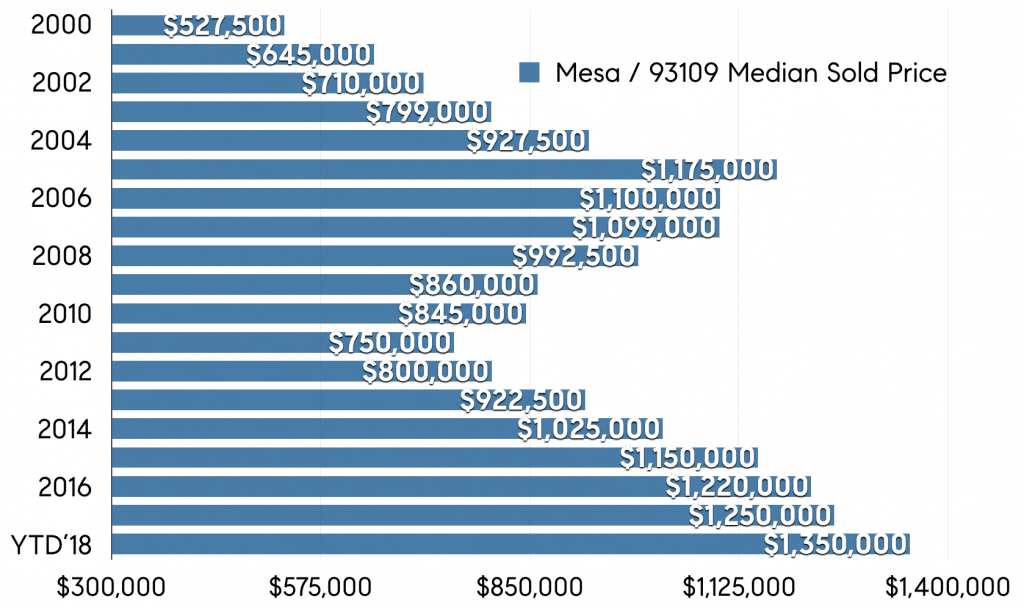 The rise in price and other market factors is causing the inventory to grow.  Considering both available and pending properties there are currently 51 condos and homes for sale on the Mesa.  That is approximately 5 1/2 months of supply.